Portrait artist Ernest Townsend was born on Parliament Street here in Derby on 1 January 1880.
He was the eighth child of James Townsend, a coach builder with Holmes of Derby (later Sanderson & Holmes). At the age of 14, after completing his education at Abbey Street School, Townsend gained an apprenticeship with a firm of architects, Wright & Thorpe (later known as T.H. Thorpe Associates) practicing at 23 James Street.
During his time with Wright & Thorpe, a junior partner named Thomas Harrison Thorpe recognised Ernest Townsend's artistic ability immediately and struck up a life-long friendship. After moving to London and embarking on a full-time course at Heatherly School of Fine Art, Townsend moved on to a five year course a the Royal Academy of Arts. He was enrolled as a student in the school of painting until 1907. Whilst studying, in 1904, he won The Royal Academy's Landseer Scholarship for figure painting and in 1905 he won the Academy's Creswick Prize for his painting 'Willows & Weeds'. This was later donated to The Derby Art Gallery by his family after his death in 1944.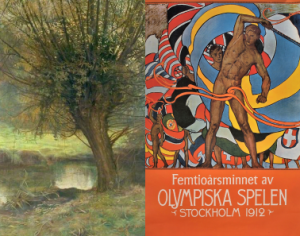 Between 1910 & 1937, Townsend exhibited 15 paintings at The Royal Academy. At the end of his five year course in London, Townsend returned home to Derby after brief stays in Paris and the Netherlands. Townsend set up studio in Full Street whilst living in nearby Coxbench. In 1912, Townsend along with fellow artists and friends, Alfred Munnings and Laura Knight represented Great Britain in the Stockholm Olympic Games by entering a painting in the Olympic Art Exhibition.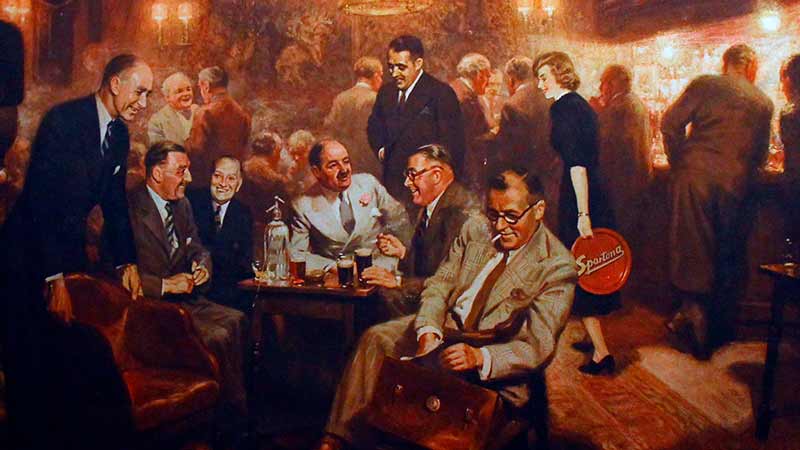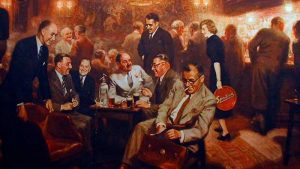 In 1915 Townsend was commissioned anonymously to paint the portrait of the Right Hon. Winston Churchill who was First Lord of the Admiralty at the time. However, the painting wasn't actually hung until 1944. Churchill had been unavailable to unveil the portrait in 1915 and after which point was no longer popular in the Liberal Club. The painting was retrieved for public viewing following Churchill's success in 1944. To this day, the portrait still hangs in the entrance hall at the Liberal Club inside Whitehall.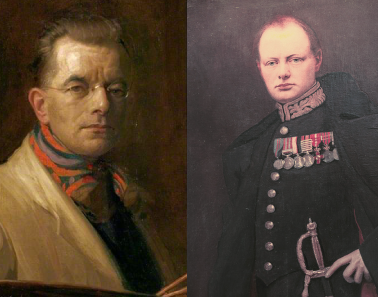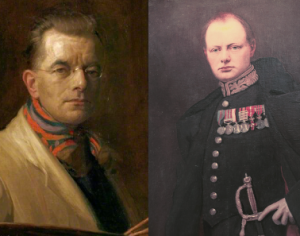 Ernest Townsend self portrait & portrait of Right Hon. Winston Churchill.
When Townsend died that same year, it was said that his cause of death was attributed to the fact that he had been over worked. During the war, he was tasked with creating designs that would camouflage the Rolls-Royce aircraft engine factories here in Derby. Rolls-Royce built the Merlin engines that would power both the Spitfire and Hurricane fighter planes.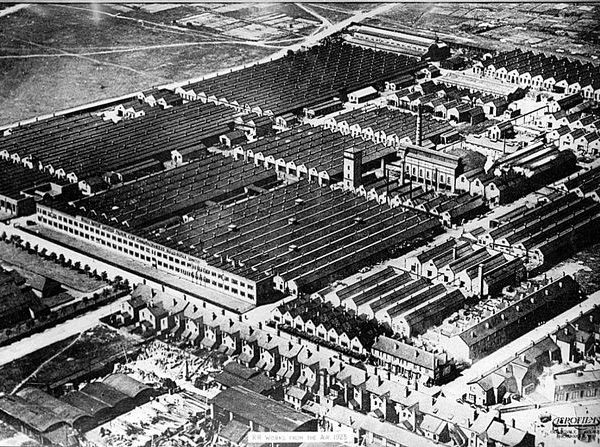 An aerial view of the Rolls-Royce aircraft engine factory from 1925.
Upon his death, and in honour of Townsend's life, Derby Art Gallery put on a memorial exhibition of his work. The Gallery still houses a large collection of Townsend's work today and there are over 60 paintings in public collections throughout the United Kingdom.